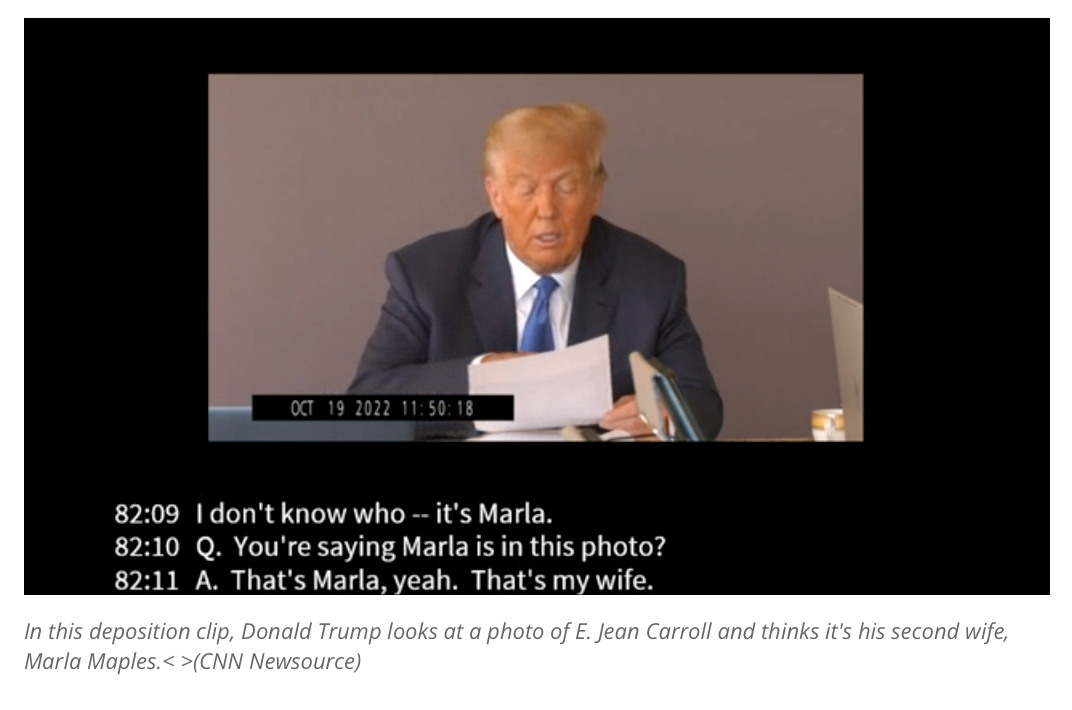 Beyond the E.Jean Carroll civil rape case, multiple reports indicate Donald Trump had a years-long pattern of abusing, exploiting—even raping—women and girls as young as 13 and 14
The case of E. Jean Carroll vs. Donald J. Trump "will go to closing arguments on Monday," reports Law and Crime, "when her legal team will urge them to hold Trump liable for sexual battery under New York's Adult Survivors Act. She has also sued for defamation."
Of course, this is not the first time Trump has been accused of rape or sexual assault.
As Law and Crime reports:
At least 26 women have publicly accused the former president of sexual misconduct, and three of them have testified to the jury. Businesswoman Jessica Leeds told a jury that Trump groped her on a plane in 2019. People magazine journalist Natasha Stoynoff said that Trump pushed her against a wall and kissed her when she went to Mar-a-Lago to interview him for a profile.
The fact that the civil rape trial brought by E. Jean Carroll might (possibly) be the first time that the aging pervert Trump is held accountable for his years as a sexual predator is, in many respects, mind-boggling.
"A predator in action"
By the time Trump was elected President, many of his most outrageous sexual assaults, along with his lecherous behavior toward extremely young girls, had been reported and ignored.
In an article headlined "Inside Donald Trump's One-Stop Parties: Attendees Recall Cocaine and Very Young Models" in The Daily Beast in October 2016, Michael Gross wrote:
The morals of Donald J. Trump, as a longtime model lover and then a modeling agency owner, were forged in another era, one in which young girls were used as a sort of currency between men doing business with one another.
According to Gross, Trump hosted parties in the 1990s where "his wealthy friends, high-rollers from his Atlantic City casinos, and potential Trump condominium buyers could meet models" from second-tier agencies and "illegal drugs and young women were passed around and used."
Earlier in 2016, Mother Jones revealed how Trump Models routinely recruited Eastern European teenagers, told them to lie to US customs & once they were here on tourist visas, forced them to live in cramped conditions while paying Trump "sky-high rents."
Mother Jones interviewed former models who admitted working for Trump illegally alongside other models, some Russian, some as young as 14:
"I was by far the oldest in the house at the ripe old age of 18," Anna said. "The bathroom always smelled like burned hair. I will never forget the place!" She added, "I taught myself how to write, 'Please clean up after yourself' in Russian."
In 2018, a BBC report revealed that Trump acted like a "predator" toward teens at parties in the '80s and '90s, telling one girl who told him she was 17 years old, "Oh, great. So you're not too old and not too young. That's just great."
Talking to the BBC, one anonymous male source said about Trump: "This guy was like a predator in action. The next day or days after we would hear about it, he would brag about it to his friends and it would get around that he scored. Maybe one or two girls at a time, which is what he loved to do."
Trump was a regular at Epstein's NYC mansion
When Ghislaine Maxwell was arrested in July 2020, I noted on Twitter how odd it was that Trump tried to paint her and Jeffrey Epstein as Florida-only friends, saying, "I've met her numerous times... especially since I lived in Palm Beach, and I guess they lived in Palm Beach."
Especially odd, considering that Trump was a frequent attendee at Epstein's child rape parties in New York City, where Epstein's infamous mansion at 9 East 71st Street is just a five-minute drive from Trump Tower.
As far back as 2000, a porter who worked next to the Epstein mansion in NY told a UK newspaper, "I often see Donald Trump and there are loads of models coming and going, mostly at night. It's amazing."
Shortly after that porter was quoted in the UK press, Trump himself told New York Magazine (in 2002) how much he enjoyed hanging out with the notorious sex trafficker: "I've known Jeff for fifteen years. Terrific guy... a lot of fun to be with. It is even said that he likes beautiful women as much as I do, and many of them are on the younger side."
During the 2016 campaign, Politico reported that a woman "asserted that while she was exploring a modeling career in 1994, she attended a series of parties at the Manhattan home of prominent investor Jeffrey Epstein. She alleges that during those parties the real estate mogul tied her to a bed and raped her."
At the time, she was 13 years old.
In 2019, Ronan Farrow claimed in his book Catch and Kill: Lies, Spies and a Conspiracy to Protect Predators that American Media Inc. (AMI), the former publisher of the National Enquirer, had helped Trump bury those allegations. When the woman dropped her federal lawsuit against Trump in 2016, her lawyer claimed she had received threats and was too frightened to show up.
"When you're a star, they let you do it"
In addition to his multiyear friendship with Jeffrey Epstein (at whose NY mansion Trump allegedly raped a 13-year-old girl), Trump also preyed on vulnerable young models in the company of Elite Model Management chief John Casablancas.
As The Guardian reported in 2020, in the years leading up to the alleged rape at Epstein's mansion, Trump served as a judge (in 1991 and 1992) for the Elite "Look of the Year" contest, at which models as young as 14 and 15, away from their families for the first time in their lives, were forced to parade for Trump and Casablancas for their own private entertainment.
The Guardian has spoken to several dozen former Look of the Year contestants, as well as industry insiders, and obtained 12 hours of previously unseen, behind-the-scenes footage. The stories we have heard suggest that Casablancas, and some of the men in his orbit, used the contest to engage in sexual relationships with vulnerable young models. Some of these allegations amount to sexual harassment, abuse or exploitation of teenage girls; others are more accurately described as rape.
In 2016, The Daily Mail reported on allegations made by Lisa Boyne, now a health food company CEO, that in 1996 Trump and Casablancas had arranged the seating at a restaurant to trap models in their seats, so that:
Any woman wanting to leave the table would have to get up and walk along it, at which point Trump 'stuck his head right underneath their skirts' to examine their underwear. He would then comment on whether they were wearing anything - and if not, what he thought of their genitals, Boyne said.
Trump and Jeffrey Epstein engaged in the same kind of exploitation at Mar-a-Lago in 1992, where The New York Times reported in 2019 that "Florida businessman George Houraney—who would later accuse Trump of sexually harassing his former girlfriend and business partner, Jill Harth,"—arranged a "calendar girl" show where 28 girls were flown in to parade themselves for the exclusive titillation of the two men.
The E. Jean Carroll trial has confirmed the essential truth about Trump
In what always seemed to me like a classic case of psychological projection, Trump told CNN's Don Lemon in 2015: "Somebody's doing the raping, Don!"
The statement was in response to being challenged on his claim that Mexican immigrants are responsible for a large number of rapes in America.
Even as he was accusing immigrants of being rapists, Trump was famously caught bragging about his ability to violate women without consent in a 2005 conversation with Access Hollywood's Billy Bush that was released in 2016: "I don't even wait," said Trump. "When you're a star they let you do it. You can do anything. Grab 'em by the pussy. You can do anything."
In 2023, clips from Trump's sworn deposition in the Carroll case show that, in Trump's emotionally stunted mind—and it's not just locker room talk—he truly thinks girls and women simply can't or won't resist him because he's so famous.
When Carroll's attorney played back the Access Hollywood tape and asked him about his stated ability to grab women by the pussy, Trump said he was confident in his right to violate women without consent: "Well, historically that's true with stars... If you look over the last million years, that's largely been true."
In other words: No need to ask. Just grab whoever, wherever you like. And if she later realizes she's been violated and complains about it, just tell her that's impossible because "she's not my type".
But he won't get away with that claim here.
Trump blew up his own main defense in the case—that E. Jean Carroll "wouldn't be my type in any way, shape, or form"—when he got shown a picture that included both himself and E. Jean Carroll but got her confused with his second wife Marla Maples: "That's Marla, yeah. That's my wife," he said with confidence.
Then, when asked if the three women he had married were his type, Trump replied: "Yeah."
If Carroll wins this civil case, Trump will not be convicted as a criminal, but he could be liable for millions of dollars in damages.
Closing arguments are scheduled to begin 10 a.m. on Monday.
---
The Unprecedented newsletter is absolutely FREE to read and subscribe. It only requires an email. But if you'd like to support my work with a paid subscription or a one-time tip, don't hold back!
Subscribe to Unprecedented
Subscribe to the newsletter and unlock access to member-only content.