Another Cowardly Kill
Yet another attempt by Donald Trump, Jr. to prove his manhood with a gun comes up short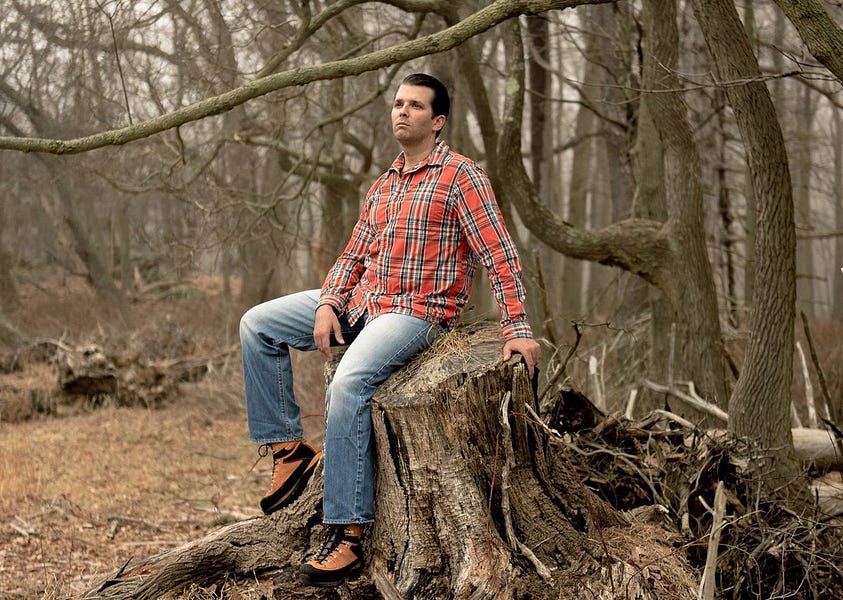 The bear was lured with "a pile of grain, oil and pastries."
Donald Trump, Jr. was lured by the chance for some quick kills that would help him reassert his manhood to MAGA world after the butthurt he likely felt after his "sad on a tree stump" 2017 photo shoot for The New York Times had been ridiculed across the internet.
Wade Lemon, Trump's guide that May 2018 weekend in Utah, was lured by the opportunity to make yet another an effete VIP guest happy.
The Trump Guide to Hunting and Fishing
Wade Lemon either knew or suspected that this penthouse-dwelling Manhattan son of privilege would lack the skills or the confidence to actually go on a real bear hunt.
So Lemon took a Trump-like approach: He broke the law.
According to a new report in The Salt Lake Tribune, Lemon now faces five years in state prison for illegally arranging the clinical murder of the bear Trump killed.
While Utah authorities are not accusing Jr. of participating directly in the illegal bearbaiting, Jr. did choose a guide—Wade Lemon Hunting—who had a long reputation for ensuring "kills" for rich white clients.
Lemon had been investigated eight times before for allegedly breaking the law to ensure a successful hunt.
As The Salt Lake Tribune reports:
Over the course of two days the president's son bagged two kills that many would consider once-in-a-lifetime hunts — a bear on May 18 and a cougar on May 19, 2018.
In other words, Trump, Jr. was served up two "once-in-a-lifetime" hunts using the illegal and shameful techniques that real hunters despise.
The Plan Worked… Until It Didn't
Like the time Donny Jr. described the Brian Kolfage-Steve Bannon "Build the Wall" scam as "private enterprise at its finest," his Utah shooting trip had the desired effect on MAGA world.
According to The Salt Lake Tribune:
Trump Jr. was in Utah to help launch Hunter Nation, a hunting advocacy group. That group would later launch its own super PAC, Hunter Nation Action, which spent $96,997 in ads against Democrats in the 2020 election, according to the campaign spending transparency site Open Secrets…. "You will have to go a long way to find a bigger advocate for our hunting lifestyle, a more passionate hunter and conservationist than Don, Jr.," reads a post Hunter Nation released in the fall of 2019 as part of a raffle for members to win a trip hunting elk in Utah with the president's son.
But like the "Build the Wall" scam, Donald Trump. Jr's "hunting" credentials are now exposed as equally fraudulent. Shooting animals that have been lured directly into your sights isn't hunting. And neither is using a coward's laser-sighted rifle to illegally kill a rare and majestic animal under cover of night, as Jr. did in Mongolia in 2019. (I wrote about that trip here, including the apparent quid-pro-quo that helped the President's son escape punishment: The Real "Hunter" Scandal.)
Build the Wall scammer Brian Kolfage has now pleaded guilty to his crimes and faces a sentence of 51-63 months in prison. Wade Lemon is looking at a similar sentence.
But, even after being exposed—yet again—as a Fake Hunter, Donald Trump, Jr. remains free to kill again.
---
All content to this ad-free email newsletter is free—there's no paywall. But the support of paid subscribers is always welcome!
Subscribe to Unprecedented
Subscribe to the newsletter and unlock access to member-only content.